Internet is the world of infinite opportunity, and every second, something new makes its way to the world of vast possibilities.
In this blog, we'll talk about User-Generated Content (UGC) – the most engaging way of marketing on various online platforms, and how brands can leverage it to their advantage. 
It won't be wrong to say that UGC is leading the race in the new age of marketing primarily through social media. 
Here's the big question, have you heard of user-generated content or understand what exactly it is? Well, some of you may answer, the content generated by the user, which is correct, but that's not all of it.
What is User-Generated Content?
Any content created by people or individuals, but not brands, can be called user-generated content. For example, individuals who create and share social media posts promoting the brand they love without being paid. UGC can be in the form of videos, text, images, reviews, testimonials, etc.
In this era of digital media, users tend to trust individuals more than the brand itself. As a result, brands collaborate with influencers and celebrities to promote trust and credibility while pushing the brand's marketing agendas. 
Some of you must have already joined the social media influencer bandwagon, and some must be on the verge. But user-generated content and influencer marketing are not at all the same.
User-generated content is the next big thing for the online marketing world. So now, since we know what user-generated content is, let's proceed further and understand how powerful and beneficial it is for a brand.
But, for that, keep scrolling down to know the real potential of user-generated content.
How UGC Benefits a Brand?
In the 21st century, where everything is easily accessible at the click of a button, people remain cautious before purchasing. Though brands try to lure individuals, users still opt for forums, watch videos, and read about the product before jumping on to purchasing.
Make no mistake, user-generated content does have potential. According to Adweek, 76% of people trust content shared by a user rather than a brand, eventually making user-generated content a crucial aspect of a company's overall marketing strategy.
As per a new study, consumers are 2.4 times more likely to view content generated by users than brands. Thus, incorporating a user-generated content marketing strategy should be on top of the brand's to-do list; as it's a tool powerful enough to drive your sales.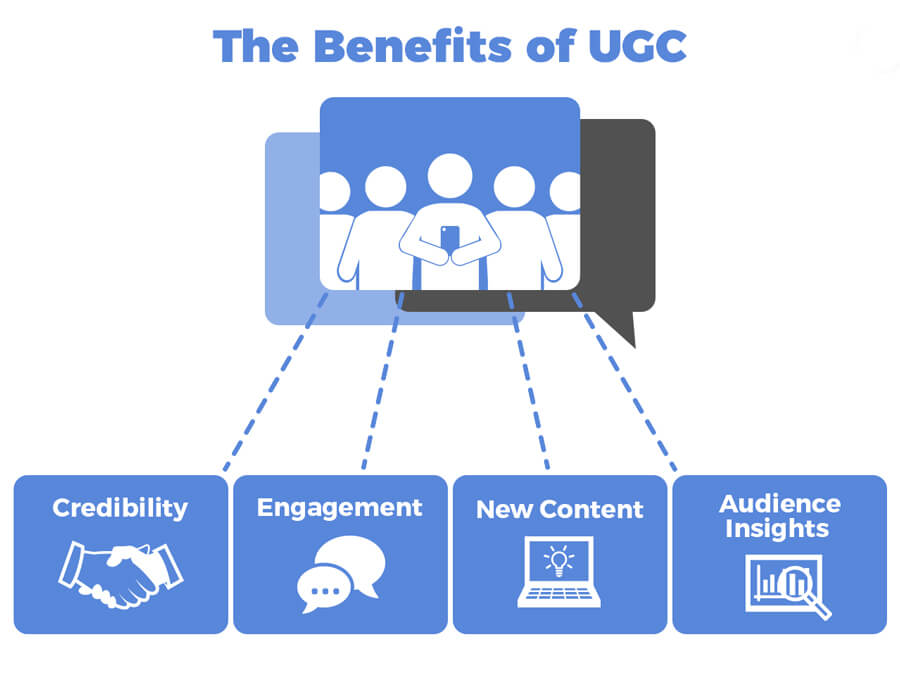 Seek User Consent Before Sharing
Users posting about their favorite brand doesn't give the brand ownership and right to use their content. Just like anyone, brands too come under legal obligation. Quite often, brands share user-generated content without giving them the due credits or seeking permission before doing so.
It is always good to stay on the right side of the law. Seeking users' consent before sharing their content builds a better relationship between the brand and the customer. Of course, users won't always ask for payment in return, but they may at times, and if they do, it is advisable to consult the brand's legal advisory team.
User Feedback
Brands often have a team in place to create content or hire an agency to drive sales, but user-generated content is free and works more like feedback from the customer—a pretty helpful way where customers are spreading the word about the brand, that too at no cost. It helps brands see potential customers, how users perceive a product while correcting any negative feedback.
How To Get UGC Quickly?
What makes user-generated content effective is the consumer trust it builds in marketing. 
UGC works like social proof that customers need to trust the brand. Advertisers often reach their audiences through online promotion, but user-generated content has been more efficient, creating a more positive experience. But, what are some of the best practices to get user-generated content?
Run a contest
As a brand, offering anything in return goes well with your loyal customers. Running a contest significantly converts into customers, eventually to user-generated content.
Create a hashtag campaign
A hashtag campaign is a great way to reach a varied audience, especially those interested in your brand and its services. Hashtag campaigns help drive engagement and traffic on social media, allowing brands to reach a wider audience.
Strong calls-to-action 
A powerful CTA is as important as the product and services brands offer. Create a hashtag campaign and promote it on social media with powerful calls-to-action asking users to create and share their content with the brand's hashtag.
Conclusion
User-generated content is driving the digital market. A beneficial yet necessary tool is helping brands transform the way they interact with the customer.
And that's where TZS Digital, one of the top digital marketing agencies in India, comes to your rescue. We are helping brands build their online presence with effective digital marketing strategies.
With a team of creative and experienced professionals, we at TZS Digital are helping brands in the ideation of creative campaigns as our result-oriented approach stands second to none.
TZS Digital has left no stone unturned in delivering projects as per the client, from effective SEO strategies to content that connects and drives the digital market.