Instagram Reels are cool and trending, but are they working for your brand? Are you able to hook your audience with your reels or it's just lying on your Instagram grid and doing nothing for your brand?
If the latter is your answer, then you're at the right place because today, you're going to learn 10 incredible tips and tricks of Instagram Reels to blow your audience's mind away. (Not literally though :P)
So, why are Instagram Reels popular?
In 2017, TikTok skyrocketed its user base just one year after its launch and grew overnight. It had 689 million users and was the seventh-largest social media platform. 
Instagram came with its product called Instagram Reels. Reels on Instagram are similar to TikTok; it's just within the Instagram App.
What are Instagram Reels?
Instagram Reels are videos clips, not lasting more than 60 seconds on Instagram. They are short, entertaining videos with multi-audio, effects, music and creative tools. 
Reels are perfect because they bring engagement, and it's the only feature of Instagram where you don't need followers for anyone in the world to see your reel. You can even share reels with anyone.
But what is the maths behind these reels? How are brands leveraging it to make content go viral?
How are people becoming overnight Instagram Reels sensation?
Let's have a look and crack the code to a successful reel!
10 Tips To Create Instagram Reels And Wow Your Audience
Instagram reels not only increase likes and comments but even boost overall engagement with your target audience. It is even great for growing your fan base. Here are some top 10 tips for Instagram Reels that will wow your audience and bring incredible results.

1. Follow Reels Trends
Making reels on the ongoing trend can make you viral and get more viewers. Do your research, understand the trend and put your twist on it. Already popularised content is easier and more likely to go viral. Just add your unique design/content element and let it flow. 
2. Structure for Instagram Reels Success
To grab viewers, attention, increase engagement, increase likes and views, here's a flawless Instagram Reels structure you must follow.
First 3 seconds of the video

– A great HOOK is all you need to stop their thumbs on your reel. Tell your audience what it is immediately. Use stickers and text to introduce your topic and tell them what they're going to learn. Use curiosity, FOMO and other attention tactics to grab their attention. 

Next 3 seconds

– If you have a wow factor in your reel, it's time to make those jaws drop. This is the section where the audience decides whether they should continue or not. So, show the most interesting part or say something that glues your viewers.

The next part

– Put all the knowledge bombs with effects and music. Provide your audience with the actual value. It might be advice, tips, insights, stats, or resources.

Last 3 to 4 seconds of the video

– It's time for adding a call-to-action at the end. Ask your audience what action you want them to take. 
3. Right Hashtag Strategy
It would help if you created a hashtag strategy to boost your reels on Instagram. Hashtags play a crucial role in Instagram Reels. It can make your reels go viral on Instagram. Hashtags allow Instagram to categorize and present your reels to users who they think might be interested.
4. Best Time to Post Instagram Reels
If you want to get higher views and good engagement on your reels, stop posting it at random times. Know your audience and find out when they are mostly active on Instagram. An easy version to know the best time to post your Instagram Reels:
Go to your Instagram Insights

View "most Active times."

When it's at peak, do not post

Post when your followers are online & activity is rising
It's said, "Strike when the iron is hot". In the case of Reels "Post when the audience is seeing" (Uncanny resemblance)
5. Engage On Your Reels
The best method to bring engagement to your reels is getting engaged on your own reel. How can you engage?
Like all the comments
Reply to all the comments on your reels
Getting responses from the account holder is a 'yay' moment for the audience. 
6. Increase Replay-Ability
Replay-ability is making viewers watch your reel repeatedly. Make your Instagram Reels so entertaining or informative that people hit the play button again. Every time someone watches your reels counts another view.
7. Contest With Instagram Reels
Reels have no limit on Instagram to whom they reach. It's the perfect feature for announcing an Instagram giveaway or contest. It makes it easy to capture and store new leads from your contest. When you run an Instagram giveaway, you can announce through an Instagram reel and tell your audience to DM you with a specific keyword, comment on your post, or mention in their story.
8. Never Delete Your Reels
You should never delete your reels because they pick up views long after they were posted. Deleting a specific reel will delete all the engagement you had on that reel. So, you must delete it only if it's very important to you.
9. Ask Viewers to Mention Your Reel in Their Story
.
You must ask viewers to put your reels on their Instagram stories if they really liked it. This will help you to reach their community and get their followers.
10. Be Consistent
The results and performance of your Reels depend upon how frequently and consistently you post on Instagram. Create Reels in advance to save you time in the long run.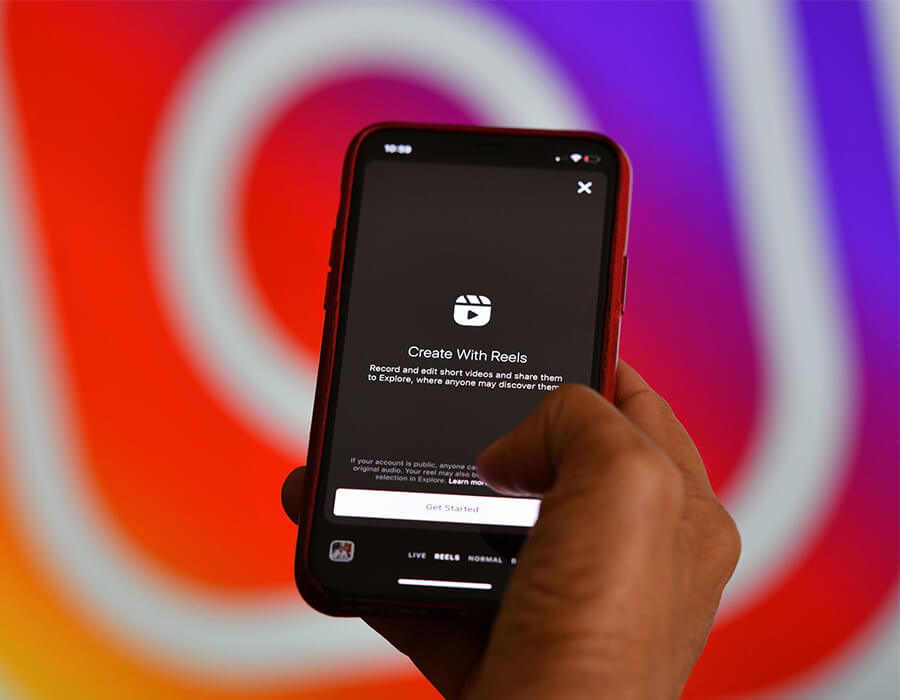 Wrap-Up
Instagram Reels are easy to make, but it needs lots of effort and creativity to go viral. It should be created in such a way that it keeps the viewers engaged and blows their heads. Every second should match with the effects and music. 
Wondering how to make it perfect from start to end? Reach out to us.
We at TZS Digital have a team with a unique creative instinct. We are aces when it comes to digital marketing. Social media has been one of our strongest points. Having worked with clients across different niches we have tested and proven content, promotion & design methods for social media. 
The world is literally moving towards social media. Do not be left out just because you did not start with the right strategy. We are just a click away. To know more about our work, check our portfolio.
Follow Us On: